Daylights are products that allow sunlight into the building without any heat. The daylights are basically of two types, one is tubular type popularly known as lightpipe or solar pipe and the other is prismatic daylights usually known as Norikool daylights.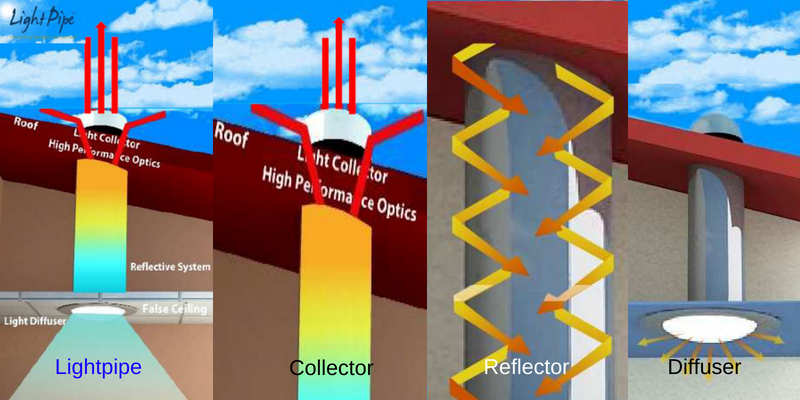 The lightpipes transmit the sunlight  collected outside the building into it through a tubular arrangement. The lightpipe consists of three major parts listed below.
Light Collector

Reflective System

Light Diffuser
 LIGHT COLLECTOR
The light collector collects sunlight from all directions and delivers light effectively through out the day even at low sun angles. Since the collector can collect sunlight even at a low angle, the light collection in the mornings and evenings are boosted. The lightpipe delivers more uniform light throughout the day, while partially rejecting mid noon sun radiation and blocking UV radiation.
Lightpipe – Sunlight Capture System
S.No.
Parameters
Specifications
1
Sunlight Collector Cover
The Transparent, Clear dome allows light to be
collected across the sky from all directions.
2
Shape
It should be moulded, Single Piece, dome
shaped.
3
Material
Clear, transparent polycarbonate.
4
Thickness
To be formed out of 3mm thick clear
polycarbonate sheet.
5
UV coating thickness for Raw
material sheet
80 Microns
6
UV Block
Upto 99% (UV A&B)
7
Impact Strength
600-800 J/M (ASTM D256)
8
Flame Redundancy
Limiting Oxygen index LOI -25(ISO 4589 ASTMD 2863)
9
Light Transmission
83% Test Standard
10
Heat Resistance Temperative
45º – 150º Celsius (DIN 53460)(VICAT VST/B)
11
Thermal Conductivity
0.21 /m0c (DIN 52612)
REFLECTOR SYSTEM

The reflector system delivers high luminance without colour shift even on cloudy days. The reflector is mirror finished. The reflector also called light transfer system comes in four different diameters viz., 300mm, 400mm, 530mm and 750mm. Below is a specification of a 530mm lightpipe transfer system. The specification of other diameter lightpipes is also almost similar.

Lightpipe – Light Transfer System -530mm
S.No.
Parameters
Specifications
1
Diameter
530 mm
2
Shape
Cylindrical Shape
3
Material
Aluminum
4
Total Reflectivity
98%
5
Material Thickness
Not less than 0.4 mm
6
Protection Film
PE foil not UV Resistant
7
Bends (in degrees)
90 & 45
8
Universal Roof adopter
Two piece, adjustable, universal roof adopter of
standard length (570mm – 600mm)
9
Adjustable angle
0° – 30° pitch angle of roofs. For angles above 30°,
customer to specify
10
Diameters
To match LPR 530mm
LIGHT DIFFUSER

The diffuser spreads the light into the building minimizing the glare and with comfort to humans inside the building. To give a pleasing light, the diffuser is categorized into three types, viz., clear bright, soft white and bright vision. Read the selection guide to find out the suitable diffuser for your application.

Lightpipe – Light Diffuser
S.No.
Parameters
Specification
1
Shape
It should be moulded, single piece flat/ Dome Shape (like a flat
bowl) for better distribution of light.
2
Material
Polycarbonate Clear Bright Prismatic or Pigmented Soft White
3
Thickness
To be formed out of 2mm Thick material.
4
Light
Transmission
Not less than 80%.
5
Diffuser Ring
Injection molded ABS plastic ring – white color.
6
Double
Glazing
Diffuser double glazed with 1.0mm thick clear polycarbonate with
90% Light Transmission.
7
Diffuser to
pipe fixing
Locking provision of pipe into the diffuser ring with silicon seal.
Lightpipe – Diffuser Selection Guide
The diffuser is the lower most part of the lightpipe through which the sunlight is distibuted into the building, It is of three types namely, clear bright, soft white and bright vision.
Parameters
Clear Bright Diffuser
Soft White Diffuser
Bright Vision Light Diffuser
Light
High light transmission
Soft, pleasing light
High light transmission
Light Distribution
Medium light Distribution
High lighting distribution
Controlled light distribution
Roof Height
Applicable for high roof
Applicable for low roof
Applicable for high and medium roof
Application
Industries and Warehouses
Offices and Residences
Commercial
buildings, Warehouses, Industrial
Buildings and Offices
Shape
Dome Shape
Dome & Flat Shaped
Flat shaped
Image


LENGTH AND DIAMETER OF THE LIGHTPIPE
The lightpipe comes in different diameters and length. The below table gives an overview.
Lightpipe Selection Guide
The selection of lightpipes basically depends on the roof height and the lumen required.
| Roof Height | Lumens Required | Area to be covered | Equivalent Mercury Vapour Lamp | Maximum length of the lightpipe | Recommended Lightpipe |
| --- | --- | --- | --- | --- | --- |
| Up to 3m | Up to 4,000 | 150 Sq.ft. / 15 Sq.m. | 90 W | 4 – 5 meters | 300mm |
| Up to 5m | Up to 8,000 | 250 Sq.ft. / 23 Sq.m. | 180 W | 6 – 8 meters | 400mm |
| Up to 7m | Up to 12,000 | 450 Sq.ft. / 42 Sq.m. | 300 W | 10 – 12 meters | 530mm |
| Up to 12m | Up to 22,000 | 850 Sq.ft. / 80 Sq.m. | 475 W | Ideal for shorter lengths | 750mm |
HEAT TRANSFER
The lightpipe minimizes the heat transfer . The high performance light collector partially rejects the mid noon sunlight thus effectively rejecting any additional heat. The static air column in the reflector system does not allow heat to be transmitted.
Some photos from installed sites
click on the image to zoom
Prismatic Daylights @ Norikool
Norikool is an Advanced Daylighting Solution for Industries & Buildings, that can replace Strip/Roof lights in Industries and Pre-engineered Metal Buildings. It delivers exceptional daylight with negligible or minimal heat transfer. It can replace Strip/Roof lights in. Unlike traditional translucent sheets, norikool is easy to install and maintain. The heat transfer is very less, while the transmission and distribution of light is very much better than those in traditional translucent sheets.
It is made of polycarbonate sheet with several minute prismatic structures. It comes in two sizes 1.2m x 1 m and 0.6m x 0.4m. It is installed in three different types of glazing viz, single, double and triple glazing.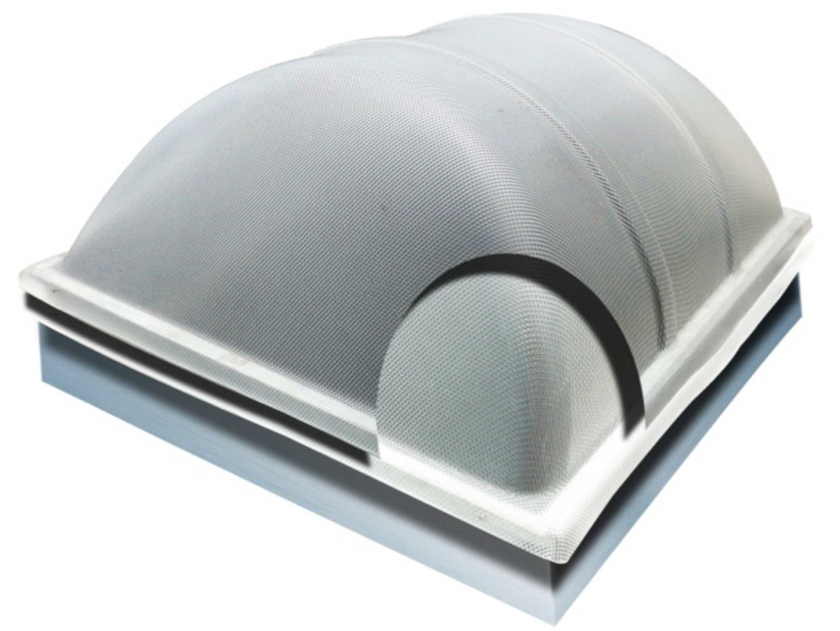 The selection guide to choose the right norikool is given below.
Norikool Selection Guide
Norikool is ideal in cases where there is an open ceiling. As norikool does not have any part of it protruding inside the buildings, the lights will be obstructed if there is a false ceiling. Like lightpipe, the choice of Norikool also depends on the height of the roof and the required lumen.
| Roof Height | Required Light Transmission | Approximate lumen Required | Approximate area to be covered | Recommended Glazing |
| --- | --- | --- | --- | --- |
| 15 meters | Up to 72% | Up to 60,000 | 2000 Sq.ft. | 1.2m x 1m Single Glazing |
| 15 meters | Up to 57% | Up to 47,500 | 1600 Sq.ft. | 1.2m x 1m Triple Glazing |
| 10 – 15 meters | Up to 68% | Up to 56,670 | 1800 Sq.ft. | 1.2m x 1m Double Glazing |
| 10 – 15 meters | Up to 57% | Up to 47,500 | 1600 Sq.ft. | 1.2m x 1m Triple Glazing |
| Less than 10 meters | Up to 68% | Up to 56,670 | 1800 Sq.ft. | 1.2m x 1m Double Glazing |
| 3 – 5 meters | Up to 68% | Up to 25,000 | 600 Sq.ft. | 0.6m x 0.4m Double Glazing Mini |
HEAT TRANSFER
Norikool occupies very less space when compared to traditional skylights thereby allowing negligible amount of heat inside the building. A detailed case studies on heat transfer by norikool can be read here.
Some photos from installed sites
Click on the image to zoom